I know, this is a very specific post. Oddly specific. Its ok. No one is offended, right? Good.
So we all know how I like
homemade butter
. (Especially Tallman's roommate, who I once woke up at 9am on a Saturday with the very loud blender whilst making butter.) Its something that when I have my own apartment there will always be some homemade butter in the fridge, possibly flavored with local honey
from this place
. But something so special needs its own home. A special butter needs a special dish.
I like going into Anthropologie and gazing/fondling their home goods and dreaming about my future kitchen. Imagine that you and I are shopping together in Anthropologie for the rest of this blog post...
This one would need me to mold my own butter and into rounds, so I'd need a separate mold for that, and it would need to fit in the dish... but damn, I DO like this dish. Its green (so it would match the rest of my kitchen stuff), but it has a fun antique-y pattern that would keep it looking interesting.
I like the simplicity of this butter dish, but it too would need to have the butter molded separately. But it comes in green, and its cute as a button.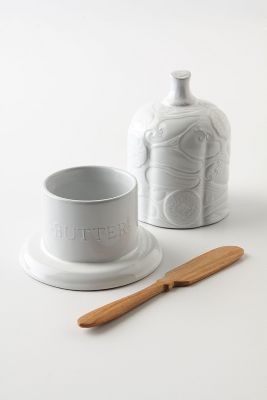 This butter dish is sort of plain because it is white, but the fact that it is sort of cup shaped means that I wouldn't have to mold my own butter, I could just put it in the cup, cover it and go. I like this, but it is sort of boring. Too bad it doesn't come in green.
Well those are my thoughts, do you use a butter dish? Do you like the one you use? Do tell me.